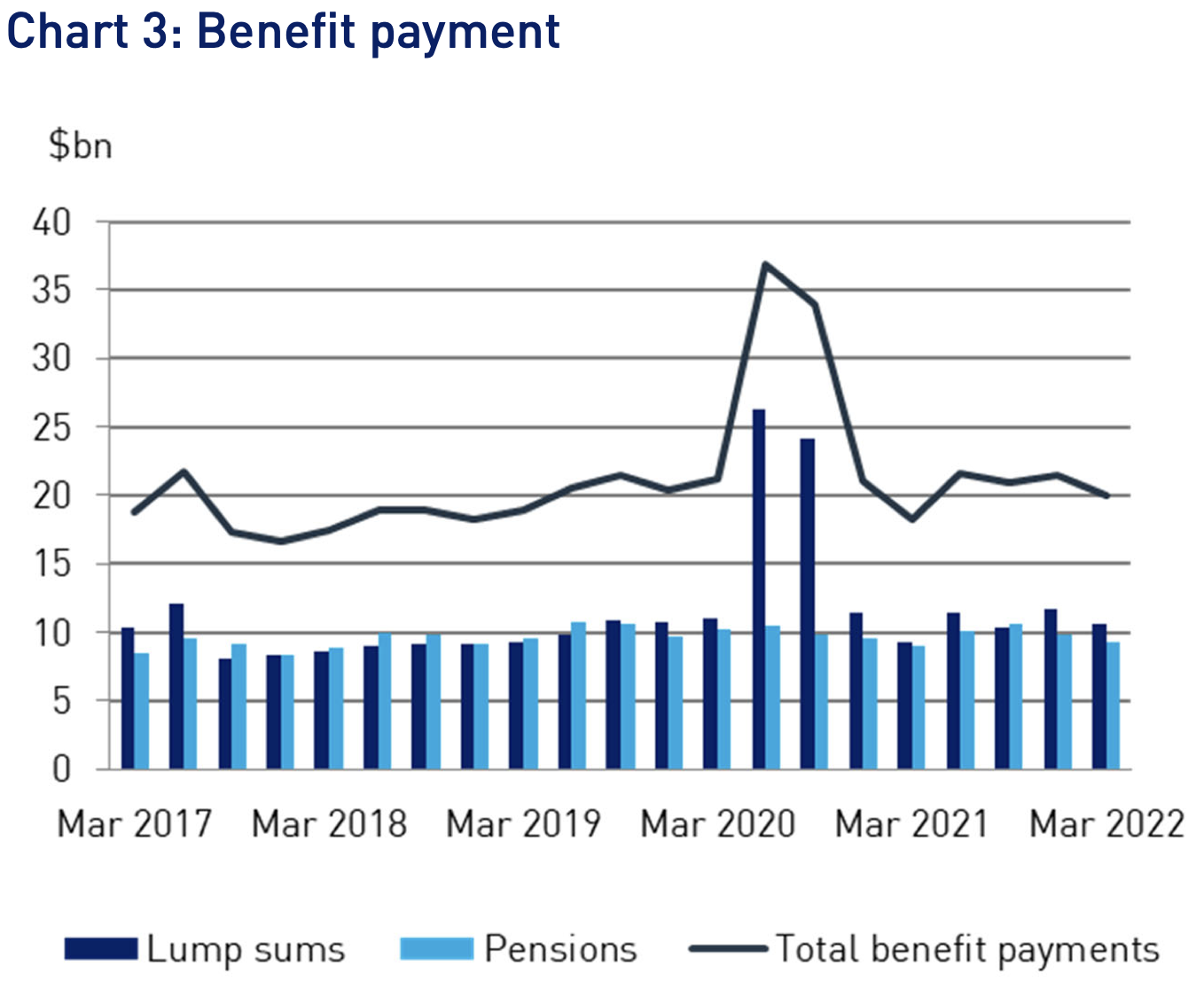 APRA data draw stark post-election picture of super early release
Barely a week after the controversy generated by the former Federal Government's superannuation for housing election policy proposal, new data released by the Australian Prudential Regulation Authority (APRA) has laid bare the significant impact of its superannuation early release regime.
The APRA data reveal a 38% decline in lump sum payments for the year ending March 2022 compared with the prior 12-month period.
However, the data also revealed a dichotomy with those who could afford it actually contributing more to their superannuation during lockdown.
Releasing its March quarter 2022 statistics, APRA noted that benefit payments totalled $83.9 billion for the year ending March 2022 and that, of this, lump sum payments totalled $44.1 billion, a decline of 38%. over the year, "reflecting the closure of the Early Release Scheme and lump sum payments returning to average levels".
It said pension payments totalled $39.8 billion over the year, an increase of 2.3%.
Overall, the APRA data show that total superannuation assets in Australia grew over the 12 months by 9.7% to $3,44,5 billion with the great level of growth being in self-managed super fund assets which grew by 12% to $892 billion.
"Superannuation assets totalled over $3.4 trillion at the end of the March 2022. This was a 9.7% increase in the value of total superannuation assets over the past year, reflecting strong investment performance and positive contributions growth due to COVID-19 fiscal stimulus received over the period," the APRA analysis said.
"However, the March 2022 quarter reflects contributions beginning to revert to long-term trends and weaker investment performance due to concerns over higher interest rates with rising inflation exacerbated by constrained supply chains, and the uncertainty brought about by the conflict in Ukraine."
"Contributions totalled $141.6 billion, an increase of 16.9% for the year ending March 2022. Over this period, employer contributions increased by 6.6% totalling $104.2 billion, of which Superannuation Guarantee contributions ($77.3 billion) increased 5.3%.," the APRA analysis said.
Member contributions ($37.4 billion) increased 60% over this period, of which personal contributions ($34.9 billion) increased 61.7%.
"This contributions growth can be largely attributed to the increase in household savings during the onset of COVID-19, although member contribution levels have begun to revert back to longer term trends in the past two quarters."